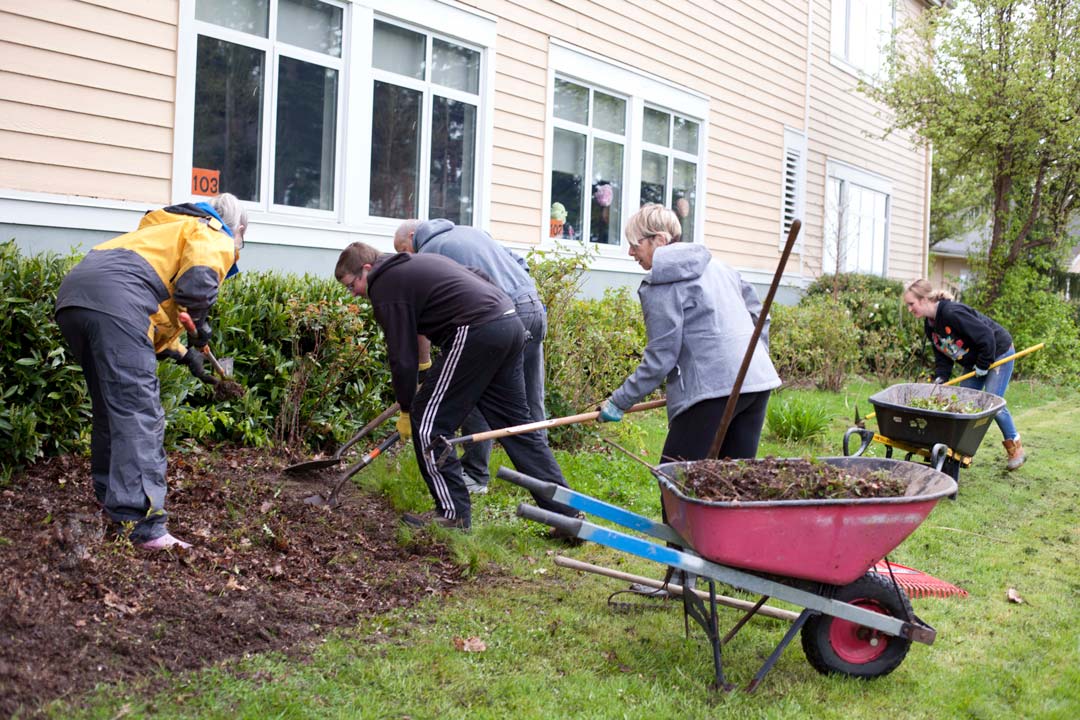 Observations from a City Clean
Here are a few observations from Snohomish City Clean-up day.
Serving builds community.
One of the neat things about the event is the chance to work side by side with others from church. We forget that one of the ways God builds connection and relationship in his people is as we invest in his kingdom together. As C.S. Lewis said, "It is when we are doing things together that friendship springs up – painting, sailing ships, praying, philosophizing, and fighting shoulder to shoulder." (Or pulling weeds. Or pushing wheelbarrows. Or heaving shovels.) As we stand and work together, God builds the kind of community we long for.
Serving is a pretty cool way to disciple our kids
Every city clean-up we seem to get a good percentage of younger helpers (evidenced by the fact that I always run out of doughnuts with sprinkles first). It's the greatest to see kids as young as 2 or 3 with their parents working together. I love seeing the energy and fun the kids bring to mundane tasks. I love seeing adults getting creative or inventing games to try and channel that energy to pick up weeds or work faster. I love seeing little kids learning how to serve, and seeing teenagers learn to deny themselves. It is good for parents to work with their kids&mdah;to see that we can and ought to expect kids to be invested in things bigger than themselves, to serve others, and not think only of themselves. Kids should see their parents laying down themselves for the sake of others. God will use those simple moments to form the gospel in us and our kids.
Serving turns us towards God
I know when I woke up Saturday morning and heard the pouring rain outside, I was not in any way feeling the joy and delight of serving others. I didn't feel particularly spiritual in that moment either. But my simple prayer was, God help my attitude, and give us a good day. It didn't feel like some profound spiritual act, nor did I have some gigantic spiritual epiphany, but as the day got going, God moved in my heart and I was legitimately glad to work, to be with others, to be a part of the day. That is what God does. He very simple but very faithfully moves us towards him as we take simple steps of obedience that stretch us.
Serving is what Jesus did and does.
It is such a profound but simple truth that Jesus serves us. Jesus lays down his rights and claims to give to us. He loves us, even if it costs him. When we do those simple acts of laying down ourselves for others, of doing the undesirable to meet a need even if we don't benefit directly, we reflect the heart of Jesus. and that's a good thing. We see Jesus clearly, and hopefully in seeing him, we are becoming just a bit more like him.
Thanks to all who came out to serve with us for the city clean up. Hopefully you were blessed and encouraged too. Any of your own observations?
You can view photos from the day here.