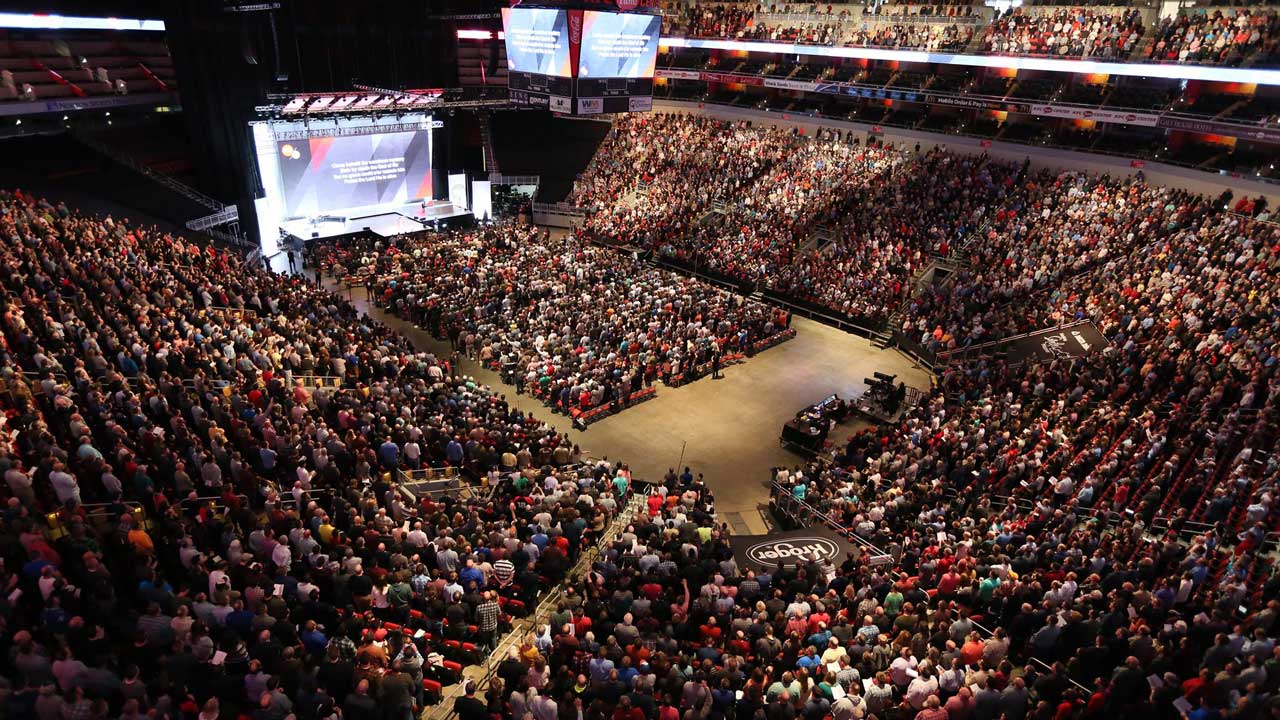 Last week, 12,000 Christians gathered together under the banner of the gospel in Louisville, Kentucky. Your pastors and elders were privileged to attend. This post is to express our gratitude for our church sending us on this trip.
From Pastor Gary:
Church, thank you for making it possible for your pastors to attend the Together for the Gospel (T4G) conference last week. This was a much needed time just to get away, and soak up some outstanding gospel preaching and rub shoulders with one another and another twelve thousand pastors and ministry leaders from around the country. I am grateful.
There was much said about experiencing freedom in our pursuit of holiness. "Holiness is freedom from sin. Satan deceived Adam and Eve into thinking that they would be more like God and experience greater freedom if they disobeyed. And we know how that turned out. But it's just the opposite. There is freedom in obedience! This is understood in the context of grace. Grace precedes law. God exercises grace toward us before we ever obey. This is a gift and our motivation and delight to obey." More could be said but I hope you will find it a delight and joy to obey God, drawing from a well of grace that He has so richly filled you with. That's what I want.
From Pastor Phil:
Thanks, Bridge, for the opportunity for your elders and pastors to be a part of Together 4 the Gospel. It was a great blessing to be a part of this conference and its timely encouragement and motivation. It was pretty cool that we had this trip planned long before we knew a transition was in the works, but God knew the timing, and it came about at a significant time of focus and movement in the life of the Bridge. There was so much valuable exhortation to what it means to be leaders in Christ's church. I was personally encouraged by the challenges to faithfully communicate God's word, to center life and ministry on the gospel, to diligently pursue a life of holiness, to care deeply for the spiritual growth of God's people. And there was something powerful about hearing these teachings and challenges together with the other elders and pastors. I appreciated the chance to refocus on those things that we will be pursuing together. The speakers represent such a group of brilliant and godly men who seek to make known God's Word and to lead people well in being shaped by the gospel. A highlight for me was hearing the bold conviction combined with Christ-honoring humility in the preaching of these faithful servants of God. One speaker who exemplified that was David Platt:
"We will not be found faithful before our God if fear of man and fear of losing the crowd keeps us from proclaiming the totality of God's word."
May God's word and the numerous exhortations we received take root in us as leaders and bear fruit in our lives and the life of the Bridge. Thanks again!
From Pastor Brennan:
As someone who is generally responsible for leading corporate worship events, it can often take a good amount of time and distance for me to truly disengage from my normal responsibilities and engage with Christ at the deepest of levels. And I'm someone who needs a solid time of heart-refreshing once or twice a year. Here are some of the ways my heart was refreshed last week:
I was refreshed in my affections for Christ
I was refreshed in my understanding of my call to be holy
I was refreshed in my patience
I was refreshed in my commitment to discipline and hard work
I was refreshed in my awareness of the magnitude of our God
I was refreshed in my love for the world around me
I was refreshed in my devotion to the sanctification of our church
I was refreshed in my love and delight for God's Word
And within all that, I was refreshed in my hope for what God can accomplish through our church and its efforts. The gospel we hold and proclaim is of unparalleled value and power. Though this world and our culture would seek to hide, snuff, warp, soften, distort, deny, and abuse the gospel, we can "hold fast the confession of our hope without wavering, for he who promised is faithful" (Hebrews 10:23). And when the gospel is upheld and proclaimed, Jesus is glorified, people are saved, and heaven rejoices. I am excited to see what God will do with the faithfulness of this church.
---
To view ALL of the teaching from the T4G conference, please visit t4g.org.